LATIN AMERICAN FOOD, LONDON STYLE
Visit Paladar, discover Latin America.
Paladar is a vibrant Latin American restaurant in the heart of London's SE1 district. We serve fresh, creative 100% gluten-free food and innovative cocktails inspired by the ingredients and flavours of Central and South America. Our selections of wines and spirits are exclusively Latin American.
PLEASE NOTE:
FOR OPERATIONAL REASONS WE ARE CLOSED FOR DINNER ON MONDAY 18 SEPTEMBER AND LUNCH ON TUESDAY 19 SEPTEMBER
THE FESTIVE SEASON AT PALADAR
Come and enjoy a Latin American Christmas dinner with a difference…
Our Festive Menus will run from 21st November until 31st December
We will be open every day during December EXCEPT the 24th-27th Christmas break.
We will be open on New Year's Eve with a special menu and we will then be closed 1st-5th January.
LOOKING FOR A CHRISTMAS GIFT FOR YOUR FRIENDS AND LOVED ONES? 
Buy one of our online gift vouchers and give them the Paladar Experience to enjoy in the new year! 
VALENTINE'S DAY AT PALADAR
We will be offering special Valentine's Day Menus on Tuesday 14th February 2023.
These two menus (one regular and one vegetarian) are the only menus that we will be offering during the dinner sitting.
The menus will run alongside our regular Daily Menu and Set Lunch menu at lunchtime.
My love for you is like the raging sea,
So powerful and deep it will forever be.
Through storm, wind, and heavy rain,
It will withstand every pain.
Our hearts are so pure and love so sweet.
I love you more with every heartbeat!
Dine indoors... or Al Fresco!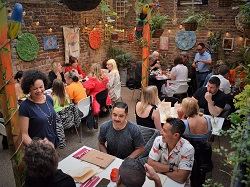 We have several dining areas at Paladar, both indoors and outdoors. Our (covered) conservatory garden is one of the most popular dining areas all year round.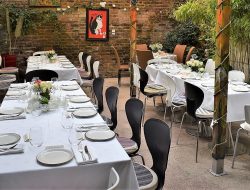 Whether for a birthday, anniversary, wedding or office party we have a range of options to suit groups of 10 to 30 or more. You can also book exclusive use of an entire area.
More than just a restaurant – we are also an art gallery! At Paladar we offer up-and-coming Latin American artists the opportunity to exhibit and sell their works.
Try our Weekday Set Menu at lunchtime/pre-theatre… or go a little crazy with 2-4-1 cocktails during "La Hora Loca" (Happy Hour) for early diners ordering before 6pm.
Feel free to send us a message in the form below for any questions you may have. Otherwise, you can also check out our FAQs page which may answer many of the more frequently asked questions.
PRE-THEATRE MENU AT PALADAR
Paladar is just a short walk away from several theatres including the new Southwark Playhouse at Elephant & Castle and The Old Vic at Waterloo. The concert halls and theatres at the Southbank complex are also within easy reach.
Our attractively-priced weekday pre-theatre set menu is for guests arriving on weekdays between 5pm and 5.45pm and vacating the table by 7.15pm. Please ask for this menu on arrival if you would like to partake!
If you cannot come to the restaurant, you can still enjoy our food and wines in the comfort of your own home! Choose between collecting yourself or having it delivered to your door – order via Uber Eats
Take a virtual tour around Paladar and discover our different dining areas! Just like Google Maps, you are able to click on the arrows to move from one area to another, as if you were walking around the restaurant.
Click below to have a look at the seating options and the layout for the Main Dining Room, the Bodega (through the opening in the wall in front of the bar), the Courtyard Garden (through the door to the left at the back of the restaurant) and the Front Terrace (overlooking the pavement and London Road in front of the restaurant).