LATIN AMERICAN FOOD, LONDON STYLE
Visit Paladar, discover Latin America.
Paladar is a vibrant Latin American restaurant in the heart of London's SE1 district. We serve fresh, creative 100% gluten-free food and innovative cocktails inspired by the ingredients and flavours of Central and South America. Our selections of wines and spirits are exclusively Latin American.
We are currently offering tables both indoors and outdoors. We also offer a collection and delivery service.
We will be open for lunch and early dinner on Bank Holiday Monday 30th August.
Forward reservations are strongly recommended, especially at weekends!
Our delightful courtyard garden offers al fresco dining all year round. We have powerful infra-red heaters and a temporary roof to keep you dry in case of rain!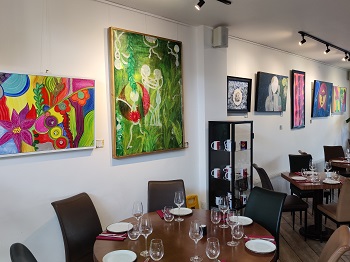 More than just a restaurant – we are also an art gallery! We offer up-and-coming Latin American artists the opportunity to exhibit and sell their works.
If you are self-isolating, you can still enjoy our food and wines in the comfort of your own home! Choose between collecting yourself or having it delivered to your door.
Enjoy our weekday offers: Try our Set Lunch Menu at lunchtime or go a little crazy with 2-4-1 cocktails during "La Hora Loca" (Happy Hour) for early diners ordering before 6pm.
Catherine Hanly, Hot Dinners
Bill Knott, Financial Times, How To Spend It