Christmas is full of shiny things
That sparkle, gleam and glow.
These holiday pleasures dazzle us,
And yet, deep down, we know…
That Christmas has its special gifts,
But our year-round joy depends
On the cherished people in our lives,
Our family and friends.
We are offering two Festive Menus this year and both are suitable for groups.
The Festive Sharing Feast is a premium array of dishes that can be enjoyed without the need to pre-order.
Our modestly priced Festive Set Lunch needs to be pre-ordered for parties of more than 10.
Both menus are available starting from late November until 30th December and crackers are included in the price.
Please note the Regular Set Lunch Menu and the Tasting Menu are suspended during December.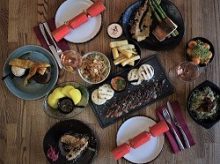 Monday – Sunday
Lunch and dinner
Tuesday – Friday
Lunchtime only